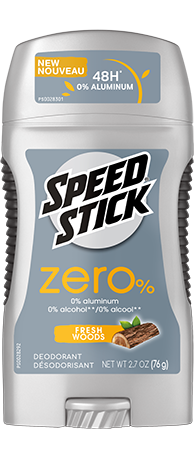 Speed Stick® Zero Deodorant, Fresh Woods
ABOUT THIS PRODUCT
Feel clean, masculine and confident with Speed Stick Zero Deodorant for Men. Our newest Zero formula is free from aluminum, alcohol* and parabens so you can smell and feel great all day. With the scent of Fresh Woods, this odor-fighting formula provides 48 hour freshness for maximum confidence.
*does not contain ethanol

SCENT: FRESH WOODS
This area allows consumers like you to express their own opinions and comments. Colgate does not represent or warrant the accuracy of any statements or product claims made here, nor endorses any opinions expressed within this section. Some reviewers have received free samples of this product.